See The Benefits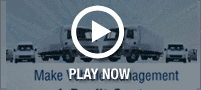 Watch a short presentation about how UR VMS can benefit your city.
Play Now...
The UR VMS Commitment
We've built our brand on consistently delivering results to our partners based on three pillars:

From flooding to hurricanes to earthquakes, UR Vehicle Management Solutions has the capability to assist with any natural disaster throughout the United States.
Always ready at a moment's notice
UR VMS has created an implemented a Disaster Response Team to respond on a moments notice to lend support in the event of a crisis. Listed below are a few advantages UR VMS can offer to its customers:


Disaster Response Equipment
2-Car Carriers

4-Car Carriers

Equipment Hauling trailers

Medium Duty Wreckers (10,001 - 26,000lbs)

Heavy Duty / Recovery Units (26,001 - 45,000lbs)

Several Heavy Duty Rotators (portable cranes) strategically placed throughout the United States. (45,001 - 80,000lbs)

Mobile Maintenance Road Service

All-terrain Bobcats and loaders for vehicle retrieval



Disaster Response Preparation
All of our power units are equipped with GPS and mapping technology to assist in areas where the local road infrastructure has been destroyed.

UR VMS is covered by Industry Leading Insurance with 25 million dollars in coverage including cargo.

UR VMS is also equipped with mobile housing units for their employees while the relief effort is in motion. We are ready to respond at a moments notice.

Our employees are trained and certified with the best techniques involved in recovering and securing of motor vehicles in extreme conditions


Disaster Response Experience Summary
The first step to achieve fast impound and release times is UR Vehicle Management Solutions' proprietary vehicle intake process and technology.


Nashville Flood - 2010
Recovered 3,550 vehicles in a three week period
Hurricane IKE - 2008
Established two CAT response bases to assist the Houston market
Recovered 15,000 vehicles in 30 days off of Galveston & surrounding areas
Hurricane Katrina - 2005
35,000 vehicles recovered or transported in a 90 day span
Ground Zero tower handling Gulfport, Waveland & Biloxi
Hurricanes Rita & Wilma - 2005
South Florida & TX response to multiple areas while still engaged with Katrina
Resulted in the opening of IAA Miami North and South post CAT


In addition to our response to these events, UR VMS has also responded to flooding in the Midwest United States including Indiana, Illinois and Wisconsin.