See The Benefits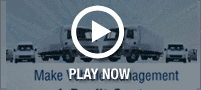 Watch a short presentation about how UR VMS can benefit your city.
Play Now...
The UR VMS Commitment
We've built our brand on consistently delivering results to our partners based on three pillars:

Disaster Response Team
DRT Year End Update

I want to take this opportunity to say thank you to the 256 companies that signed up for our Disaster Response Network this past year. 51 of those companies worked in 24 markets, logging over 3400 days on the job for which they were paid over $3M.

The biggest event we worked last year was the flash flood that hit Houston in mid-May. At one point in June, we had 45 trucks operating in the Houston market.

We also worked ice storms and snow storms in the states of OH, MA, NY, RI, WV and more flash floods in other parts of TX, OR and WA.

We were prepared to answer the call for two hurricanes and although we were not needed in either case, I appreciate everyone who said, "We are ready."

Thanks again. I look forward to working with you again in 2016.

Jim Hurst
V.P. Business Development
United Road Towing, Inc.

Freeway Service Patrol
NDOT: A warning To Motorists Driving In The Heat - June 17, 2015

Be Prepared: Sun And Heat Wears Down Engines And Tires - June 17, 2015

Freeway Service Patrol vans patrol fixed freeway routes during peak travel hours to provide traffic control and safety at incident scenes, from crashrelated lane closures to assisting removal of roadside debris or stalled vehicles. The Patrol also helps keep the freeway clear by assisting motorists to remove stalled vehicles, as well as providing basic first aid, extinguishing minor vehicle fires and more. Each Freeway Service Patrol operator is a certified automotive technician and receives emergency vehicle operator, fire protection, CPR, hazardous materials, traffic flagging, and First Aid certifications.The Freeway Service Patrol in Las Vegas is provided through contractor United Road Towing, Inc., a professional road services provider.

News Link Quality Towing United Road Towing, Inc.
United Road Towing, Inc. Launches UR Vehicle Management Solutions
- September 22, 2010
Customized Service Offering Gives Municipalities an Opportunity to Solve Financial and Operational Challenges